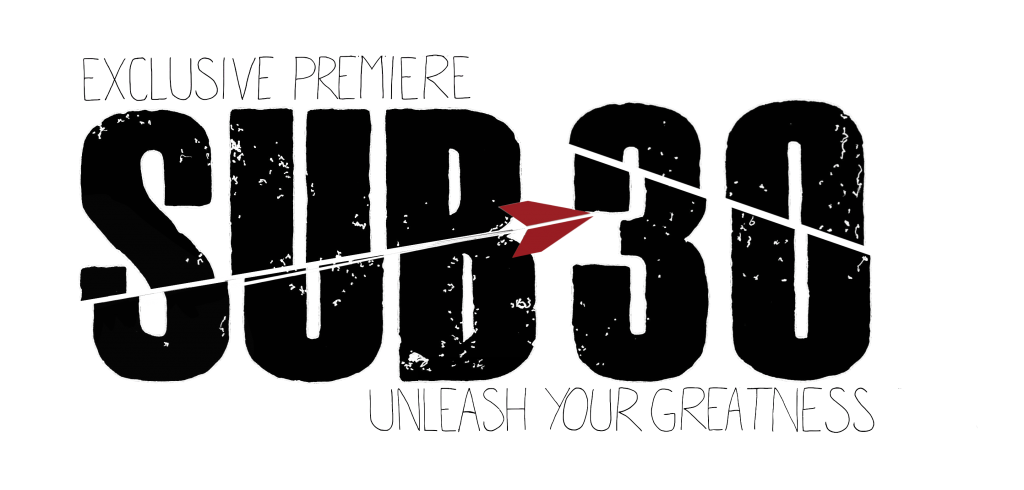 Thank you to everyone who attended our Sydney Premiere of "SUB30" and our first "Unleash Your Greatness" talk. At the moment there aren't any more dates scheduled, but you can request a special screening in your city, or workplace. Be one of the first people in the world to see the spine-tinglingly inspiring feat of one man who discovered a greatness that he'd left untapped inside of him for over thirty years.
The first ever Scary and Exciting feature film features Rob Mason. A regular guy who decided to take on a challenge much bigger than himself. Follow Rob on an epic 240km journey that sees him battle his way through the mental darkroom, wrestle with his inner demons and attempt something he never even dreamed possible.
Premiere Event Details
Saturday 24th May 2014. 12-4pm
@ Paddo RSL in Paddington, NSW, Australia
Click below to watch the trailer of SUB30
On the day of the Sub 30 Premiere, Peter Shaw, Rob's mindset coach, will be giving an exclusive talk.
In a candid presentation, Peter will share:
How To Uncover and Unleash Your Potential

3 Ways to Double Your Results in Life

The Secret Weapon Rob Used to Endure over 24 Hours of Continuous Running

2 Strategies to Beat Procrastination
To secure your ticket to the premiere, fill in your details below. And we'll send you your ticket for the Premiere of the Year.
Included in Your Ticket Price:
Be the first in the world to see a Screening of Sub 30

Exclusive Talk by Peter Shaw of ScaryandExciting.com

Complimentary 'Glass of Bubbly' for the Premiere

Tears of Inspiration and Bonus Warm Fuzzy Feelings
If you want to be entertained whilst being educated with information that will transform your life, you cannot afford to miss opportunity!
A special letter from Peter Shaw of ScaryandExciting.com
"I have some exciting news… I've been sitting on this for over a year and I'm absolutely thrilled that I can share it with you now!
ScaryandExciting.com's first mini-feature documentary film is about to be unveiled…. And I want you to be amongst the first people in the world to watch it!
The mini documentary follows the story of Ultra-marathon runner, Rob Mason, and how he used my special mental preparation techniques to achieve something he never thought possible for himself.
The Story:
Rob came to me after our 'NLP For Personal Excellence' Workshop in March 2013 and said that he wanted to set a goal… a HUGE Scary and Exciting goal; to run 240km in sub 30 hours.
I got excited. I was so thrilled with Rob's attitude and drive that I wanted to make a documentary about him. I knew Rob was excited about pushing his boundaries and really testing what he was made of. We've been working on this documentary with a top film maker for over half a year and it is finally finished.
Rob Mason is testament to the Scary and Exciting way of life. Since attending the NLP For Personal Excellence Workshop last year, Rob has:
Ran 8 personal bests in the 2 weeks following the course

Ran a marathon in under three hours (the Holy Grail for marathon runners!)

Changed careers to one he finds much more fulfilling

Completed Coast to Kosciuszko (that's 240km of continuous running!!!)

Become a Dad to a beautiful baby girl
Not bad for a years work, hey?
The documentary is so captivating and powerful that we will be entering it in to multiple film festivals. Because of this, the documentary of Rob's incredible journey won't be available to view online until 2015.
BUT….
We are hosting a PREMIERE SCREENING of SUB 30 – the first ever Scary and Exciting mini-feature documentary – in Sydney on Saturday 24 May 2014.
Watching the documentary is one thing. It will inspire and uplift, and make you wonder what is possible for YOU.. So you'll love this next bit..! I've decided that on the day of the screening, I'll be doing a special talk on Unleashing Your Greatness. In this talk I will show you behind the scenes and tell you all the hints, tips and tricks we used to change Rob from being good runner to being truly great.
You will leave inspired and ready to take on the world, with tools and techniques you can put into action straight away – lifting you to new levels you'd previously only imagined.
A word of warning: This is not a hyped up, happy-clappy, rah-rah personal development event. This is much better… this is a personal excellence event, centred around cutting-edge tools and tangible, real-world results.
We want you to bring your friends and family too. So we've kept the price reasonable. It's just 40 bucks per person. We want to show as many people as we can what is possible for them. This is the beginning of our little revolution – to help you Unleash Your Greatness. Imagine living in a society where everyone is following their dreams, and inspired to kick forward everyday. Where people smile in the streets because their life is fulfilling and real. It starts with YOU.
To secure your ticket to the Premiere of the Year, fill in your details below and we'll send you your ticket.
Included in your ticket:
Exclusive Talk by Peter Shaw of ScaryandExciting.com

Exclusive Screening of Sub 30

Complimentary 'Glass of Bubbly' for the Premiere

Tears of Inspiration and a Warm Fuzzy Feeling to take home
If at the end of the Premiere, you don't agree that the Premiere was worth one hundred times your $40 investment, I'll refund your money.
Get yourself there – bring your friends and family! This is the next wave of personal development that I have been talking about for so long. Make sure you catch it or you'll be left treading water!"
If you want the simplest tools with the most rewarding and life changing results then work with Peter Shaw. He is hilariously funny, shocking and compassionate all at once. I am so extremely grateful that I discovered ScaryandExciting.com as now I feel truly limitless in my potential. Massive thanks to Pete and the team and I can't wait to work with you again.
I just can't wait to get home and get into it. I know exactly what to do. It is just not an option that I won't do it. It's a very different feeling to other courses where I've left really proud of myself for the 'breakthroughs' but with my head in the clouds. I'm ready to go now.
The feeling of support as been massive for me – very different to any other course I have been to. I like the no frills approach. I can't recommend this course highly enough!
————————————————————————————————————————
LET US KNOW IF YOU WANT "UNLEASH YOUR GREATNESS" IN YOUR CITY