Reasons You Don't Have What You Want | NLP
July 19, 2016
Would You Turn Down One Million Dollars?
August 28, 2016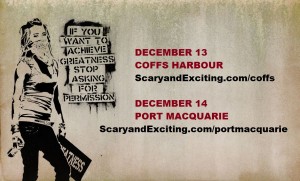 It was painful to watch. Not to mention frustrating as all hell.
Aloka was standing in front of two of her class mates. Fidgeting. Swaying from side to side. Excusing herself yet again. "I just can't do this." She said for what felt like the hundredth time that day.
Her face was flushed bright red and tears were tumbling down her cheeks.
Aloka's discomfort was tangible.
Her supportive classmates looked on, willing her to get her shit together and just deliver the two minute presentation they knew she was capable of.
In life away from the threat of public speaking, Aloka is bubbly, vivacious and fun loving. But ask her to speak to a crowd of more than one person and she shrinks to the point of being almost unrecognisable.
It was a hopeless scene. Aloka was paralysed by her fear. It was all consuming to her. It disabled her from thinking clearly. It stole her confidence and self-belief. It had controlled her life for thirty-odd years which is exactly why she had locked in to attend the Public Speaking workshop. Logically she knew her fear was ridiculous. She knew she SHOULD be able to do it. She wanted to do it. To overcome this fear that had terrorised her for years. Yet, despite all that, she was stuck. Stuck in a prison of her own making. Her crime was that she had subscribed to the thoughts in her head that told her she couldn't do it. She believed the voice that told her she wasn't good enough. And so she remained stagnating in her own hell.
Winston Churchill is famed for saying, "When you're going through hell, keep going."
The Public Speaking workshop was Aloka's own private version of hell. But rather than pushing through, every time she was called on to do an exercise she would retreat back into her comfort zone. Ironically, her comfort zone was more uncomfortable than the freedom that awaited her on the other side.
Each exercise was an opportunity for her to push through, to keep going, to smash through the restrictive boundary conditions of her comfort zone that had kept her playing small. But each time she kept choosing to shy away.
The one thing Aloka had going for her was her perseverance. She kept showing up. She kept running in to her limitations, again and again. Each time she ricocheted off the boundary conditions of her comfort zone, she got up, dusted herself off and went again.
And then the magic happened.
There was a notable difference about how Aloka showed up on day four. Something had changed. For the first time she made it through a two minute exercise without bursting in to tears. When I asked her what was different she said, "I realised that I was being a dick to myself. And that's not who I want to be or how I want to live." Where in your life are you being a dick to yourself? How are you holding yourself back? In what ways are you hindering your ascension to greatness? Aloka started the workshop being a shit-scared caterpillar, bursting in to tears of terror every five minutes. By the end of the workshop she had broken through her chrysalis of fear and transformed in to a butterfly. "How does one become a butterfly?" she asked pensively.
"You must want to fly so much that you are willing to give up being a caterpillar."
Aloka is a great poster girl for the Scary and Exciting philosophy.
She identified a fear that was holding her back in life. She made a decision to do something about it. She made a commitment and locked in the Public Speaking workshop to bring up all of her issues so that she could resolve them and free herself from fear and replace it with the courage to pursue her dreams.
But she didn't stop there.
She wanted to own her transformation. To ensure that she never goes back to playing small, shrinking and running away from life. So she locked in to speak at an event I am putting on December 13 in Coffs Harbour and December 14 in Port Macquarie. Aloka will be giving a 50 minute speech at the Unleash Your Greatness Body & Mind event. Something she never dreamed possible.
If you want to see Aloka's transformation for yourself, come and join us for a day of life-changing content, giveaways and a feast of mouth-watering food, lovingly prepared by Michael King of Wholly Human.
The event will be full of laughs and great company as usual and it will serve as a great launch pad to make 2015 a year to remember.
What is your biggest fear or limitation?
The next caterpillar to butterfly story could be about you.
Peter